Howdy, Stranger!
It looks like you're new here. If you want to get involved, click one of these buttons!
Categories
In this Discussion
Participants: Ben Allen * Stephanie August * Damon Loren Baker * Theo Ellin Ballew * Ivette Bayo Urban * John Bell * Paisley Benaza * Kathi Berens * David Berry * Sayan Bhattacharyya * Christina Boyles * Gregory Bringman * André Brock * Ron Burkey * Evan Buswell * Sarah Ciston * Eileen Clancy * Tara Conley * Krystal Cooper * Ranjodh Dhaliwal * Anthony Di Franco * Craig Dietrich * Jeremy Douglass * Kevin Driscoll * William Dyson * Brandee Easter * Martin Erwig * Schuyler Esprit * Max Feinstein * Todd Furmanski * Geoffrey Gimse * Erin Glass * Rochelle Gold * Catherine Griffiths * Ben Grosser * Fox Harrell * Sydette Harry * Brendan Howell * Nazua Idris * Jessica Johnson * Waliya Yohanna Joseph * Ted Kafala * Dorothy Kim * Corinna Kirsch * Steve Klabnik * Shelly Knotts * Peter Kudenov * Fidelia Lam * Liz Losh * Thor Magnusson * Jim Malazita * Judy Malloy * Zach Mann * Mark Marino * Lauren McCarthy * Irma McClaurin * Patrick McDonnell * Tara McPherson * Todd Milstein * Nick Montfort * Mark Neal * Safiya Noble * Keith O'Hara * David Ogborn * Allison Parrish * Ali Pearl * Gerol Petruzella * Andrew Pilsch * Samuel Pizelo * Jessica Pressman * Helen Pritchard * Daniel Punday * Kristopher Purzycki * Harvey Quamen * Amit Ray * Margaret Rhee * Lisa Rhody * Scott Richmond * Teddy Roland * Jamal Russell * Anastasia Salter * Mark Sample * Evan Schauer * Ari Schlesinger * Mehdy Sedaghat Payam * Ash Smith * Winnie Soon * Glen Southergill * Mel Stanfill * Samara Hayley Steele * Nikki Stevens * Tonia Sutherland * Miriam Sweeney * Ezra Teboul * Daniel Temkin * Dennis Tenen * Marilyn M. Thomas-Houston * Elizabeth Timbs * Giuseppe Torre * Rebecca Uliasz * Annette Vee * Sneha Veeragoudar * Ashleigh Wade * Kurt James Werner * Jacque Wernimont * Zach Whalen * Roger Whitson * Roger Whitson * Michael Widner * Jody Zellen * Kai Zhang
Code Critique: A Turing Machine in a Spreadsheet
Arguably, there is more programming done today in spreadsheets than any other programming language. (Or is it a programming language at all?) I'd like to kick off a discussion of how Critical Code Studie can approach the analysis of programming in spreadsheets with a look at an usual example: a Turing Machine built in a spreadsheet.
The Turing Machine is the hypothetical contraption Alan Turing described in "On Computable Numbers, with an Application to the Entscheidungs problem." One team of Netherland-based developers, including Felienne Hermans, were at a retreat when they decided to try to build on in Excel.
Object of Study: A Turing Machine built in a spreadsheet
Language: Excel
Developer: Felienne and Co.
When: 2013
Demo: The Turing Machine spreadsheet
In addition to examining this use of a spreadsheet to create a Turing Machine, I would like to open up the discussion about spreadsheet programming. First, of all, so much research depends on work done in spreadsheets. Consider this small example of spreadsheet work gone awry. However, seeing this work in spreadsheets as programming may seem counterintuitive. I recently had a conversation with UCLA's Todd Millstein, who demonstrated the conditional statements and loops that can be written into spreadsheets (and pointed me toward that previous example). But certainly, most of this work does not look like our conventional concept of "coding." The interface metaphor itself is distracting. However considering even formulas in spreadsheets as programming starts to dissolve the conceptual boundary between programming and mathematics. Perhaps the Turing Machine is a good place to start because it is self is a mathematical model/specification/thought experiment.
Also, useful is Felienne's talk: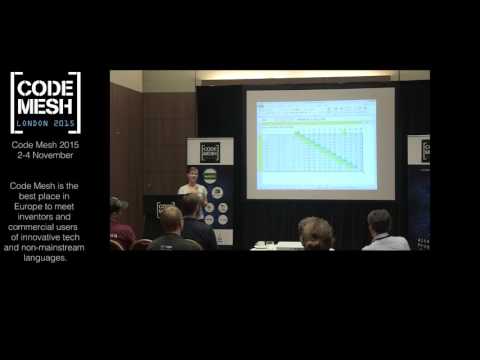 Questions:
How do we understand spreadsheets as programming languages? Or do we consider them more IDEs? APIs/COM Component?
What language/methods do we need to describe the kinds of programming done in spreadsheets?
What other examples of programs written in spreadsheets should we examine?
But specifically: What does this implementation of a Turing Machine teach us about Turing's formulation of this model?
I suspect this piece in particular might speak to @ebuswell's discussion of state in "Creative and Critical Coding. Coding as Method?"